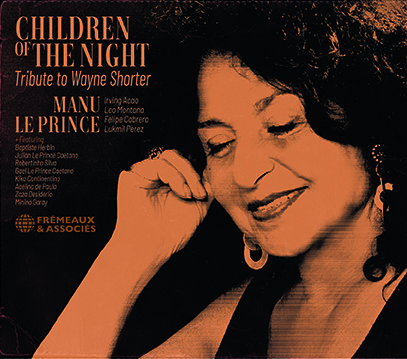 Manu Le Prince has just recorded her new upcoming release, - showcased in September the 21 at New Morning in Paris, "Children of the Night", a Tribute to the great composer and saxofonist Wayne Shorter, with the master's blessings who vetted himself the lyrics she wrote on four of his tunes. This album traces different periods of his musical career, one of them being his partnership with the brazilian singer and composer, Milton Nacimento. Manu's album was produced with a wonderful team such as saxophonists Irving Acao (arrangements) and Baptiste Herbin, and Milton's companions Robertinho Silva and Kiko Continentino.
The album has entered at Paris Jazz Academy.
WAYNE SHORTER writes :
"Manu it's a nice work, it's a nice work to hear!... Go ahead, keep going, don't stop !!!"

HERMETO PASCOAL writes :
"Marvellous ! ... very beautiful, everything is beautiful, the voice is beautiful and so in tune ! ... Parabéns Manu !"
Fan link : Manu Le Prince - Children of the Night - Tribute to Wayne Shorter
Video EPK with obtional english subtitles : click here
Children of The Night's recent press :
"With her warm and expressive voice, Manu Le Prince goes beyond the vocal translation of Wayne Shorter's playing. She wrote lyrics wich move on melodic curves"
LE MONDE - Sylvain Siclier
Manu Le Prince... We are always amazed by the heartfelt feelings. Manu Le Prince conveys in her singing, and her warm voice wich likes to go in lower-pitched notes, is like a sparkling jewel case made to measure".
A total success with an authentic sound for a project that could only be double or nothing.
JAZZ MAGAZINE "LES CHOCS" - Philippe Vincent
"The Maetro himself encouraged Manu Le Prince and, -should it be specified-, he was right. Adding words to the saxophonist's notes, Le Prince achieved a CD (Children of the Night) luminous and brave she rightfully can be proud of.
TELERAMA - Louis-Julien Nicolaou
Madame Le Prince interprets brilliantly these adaptations with subtly veiled tone of her voice "..."Having godfathers such as Wayne Shorter and Hermeto Pascoal in person, makes her a serious candidate for the "Chocs of Jazz" of this year!
MOVE - Patrick Dallongeville
"The Diva, (known as the lady embassador of Latin Jazz' s in France and in the world) pays a vibrating homage to the musician native of Newark (1933!) ... Looking for a balance between north and south, we are being totally captivated by Manu Le Prince's voice ..."
PARIS MOVE - Dominique Boulay
...And more on the Press page...
As years go by, Manu Le Prince stands out today as one of the most beautiful voices of latin jazz in France. A singer known for her warm and sensuous vocal timbre, she is also an accomplished lyric writer and composer, so adding to her interpretations of standard jazz songs a very personal touch giving them a new dimension. Born in Paris with anglo-argentinian origins and brazilian by heart, Manu has been living between Paris and Rio during the latest 25 years, mixing intimately the Jazz music that rocked her childhood with brazilian music and ethnic rythms. Manu has been so following a path to success that started with her performances with Christian Vander's mythical french jazz band MAGMA, until more recently, through her collaboration with renowned brazilian peformers such as the trombonist Raul de SOUZA or Hermeto Pascoal.

In her previous album "In a Latin Mood" (FAN LINK), in collaboration with the great argentinian percussionist and arranger Minino Garay, and also a very fine team of some of the best musicians in Paris, she wrote lyrics on musics of some of the finest modern french jazz composers as the pianists Baptiste Trotignon, Gregory Privat Giovanni Mirabassi and her son Julian Le Prince Caetano, or the accordeonist Marc Berthoumieux adding also a music from the great Kenny Barron .
Amongst many shows in Europe and Brazil, Manu presented her album at the New Morning - PARIS & TSF Jazz live (October), on Jazz Radio - LYON (December), at the Blue Note - RIO DE JANEIRO.
Amongst many shows in Europe and Brazil, Manu presented her album at the NEW MORNING - PARIS & TSF Jazz live, on JAZZ RADIO Docks 40 - LYON, at the BLUE NOTE- RIO DE JANEIRO (august 2019).
The album "In a Latin Mood " entered the "Académie du Jazz" playlist and and has had a very good press.
Manu Le Prince has in the past recorded several albums. After two tributes, one to Cole "Tribute to Cole Porter" and the other one to Johnny Alf, - one of the historical founders of the Bossa Nova movement - "BossaJazz for Ever" (4 stars on on the french review Jazzman), Manu comes back to creation, such as in "Madrugada" (where she collaborated with Hermeto Pascoal or Robertinho Silva).