In a Latin Mood
10 compositions with her own lyrics + 1 song by the late great french singer - songwriter Claude Nougaro.
2017 - In her latest album "In a Latin Mood", in collaboration with the great argentinian percussionist and arranger Minino Garay, Manu Le Prince invites a very fine team of some of the best musicians in Paris! and writes lyrics - in english, portuguese and french - on musics written by new modern french jazz composers as the pianists Gregory Privat, Giovanni Mirabassi and her son Julian Le Prince Caetano, or the accordeonist Marc Berthoumieux, adding also a music from the great Kenny Barron.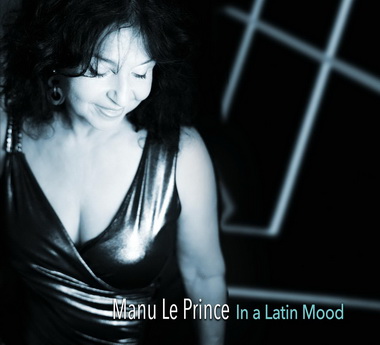 Piano Grégory Privat,
Double Bass Thomas Bramerie
Drums Lukmil Perez
Percussions Minino Garay
Guests:
Giovanni Mirabassi Julian Le Prince Caetano Lalo Zanelli (piano)
Baptiste Herbin (saxophone)
Raul Mascarenhas (flute)
Zaza Desiderio Gaël Le Prince Caetano (drums)
Davis Linx (vocal)
Marc Berthoumieux (accordeon)
Acelino de Paula (Double Bass)
---
BossaJazz for Ever
A tribute to the great brazilian composer
Johnny Alf

, The album was recorded in Rio de Janeiro featuring

Idriss Boudrioua

, longtime saxophonist and arranger of Johnny Alf

MANU LE PRINCE SEXTET
avec
Manuel Rocheman - piano
Raul Mascarenhas - saxo et flute
Rubinho Antunes - trompette
Acelino de Paula - basse
Fred Sicart - batterie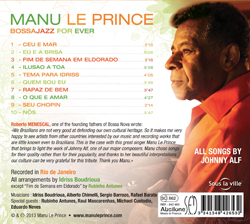 http://www.souslaville.com/manu-le-prince.html
TRIBUTE TO COLE PORTER
Label : Sergent Major - Mosaïc Music
Claude Carrière (producer on Radio France Musique desde 1975 : « Tout Duke » (1976-1984), Duke Ellington em 4O0 episodos, Jazz Club », weekly live program of Paris Jazz Clubs since 1992, ando also journalist of ""Jazz Hot" & Jazzman" ..president of Honor the Jazz Academy) writes (july 2OO8):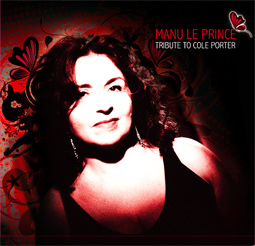 MANU LE PRINCE / TRIBUTE TO COLE PORTER :
Brazilian people have adopted her as one of theirs, and this is definitely not a minor privilege in a country where singing is considered an integral part of the art of living. Perfectly fluent in Portuguese, she shows just as much ease with English, practically her native tongue.
She is thus well qualified to undertake, at a good distance from the Bossa Nova, the jazzistic celebration of one of the most talented American songwriters, one of the rare composers-poets who wrote the lyrics as well as the music of every single one of his works. This was Cole Porter's secret for the perfect match between words and the most adequate notes …
A very refined man, curious of other worlds and other people, he spent his life between New York and Paris, not unlike Manu who knows the city of Rio inside and out…This openness of mind allows the singer to explore with pertinence and profile a repertoire familiar to all – everyone could hum fragments of Night And Day or I've Got You Under My Skin – but concea ls immense riches, and territories yet unexplored. Such is the case with All Through the Night, a difficult song, a long piece on an almost entirely chromatic structure with frequent harmonic modulations … The great art of the interpreter echoes here that of the author's, and time passes without anyone noticing their efforts. It is obviously the fruit and passion and craft, unless people prefer to believe in miracles…
One must say that Manu Le Prince is a lady who knows how to choose her accompanists, or rather attracts the talent of those who came to give her a hand: it includes the great Alain Jean-Marie on piano, inimitable inventor of harmonic storms, to Gilles Naturel on bass, John Betsch on drums, all members of her original quartet. And the distinguished guests : Stephane Belmondo on flugelhorn ; Xavier Richardeau on saxes ; Patrick Saussois on guitar ; Didier Lockwood on violin ; Rhoda Scott, on organ ; and even Manu's own sons respectively on piano and percussions, everyone wishing to add its colour and leave its print. The result is that Manu gives, seemingly without effort, the best of herself. And her feeling and mastery invest equally the rich repertoire of Cole Porter. The attentive connoisseurs will appreciate in passing the introduction of Belmondo at the beginning of the record, the little known lyrics of Love For Sale and I Get A Kick Out Of You, the uneven rhythm of From This Moment On rendition, the sombre atmosphere of Miss Otis, the masterly play of Naturel on bow at the beginning of What Is This Thing…, the rare I Am In Love, written in 1953 for Can Can, the successful wedding of the organ and voice in All Of You, and a thousand other small features contributing to open up the mind and please the heart … Claude Carrière
"The album MADRUGADA has been re-released since March 2006 with a added bonus track."
Hermeto Pascual : "Ela pensa, ela sente, ela canta maravilhosamente bem"
Produced by MANU LE PRINCE & Mark Haliday at CUSTOM STUDIO
for NEW MOOD.





Caravan


(Duke Ellington / Juan Tizol / Irving Mills)




Guit / Bass (C. Werneck), Clav. (F. Lockwood), Drums /Perc. (T. Caetano), flute (C. De Queiroz), Perc. (L.C. De Paula / E.Carnero)







E preciso perdoar


(Alcyvando Luz / Carlos Coqueijo)




Piano (F. Lockwood), Bass (C. Werneck), Drums (T. Caetano), Perc. (L.C. De Paula / E.Carnero) Trombone (R.De Souza), Cuica (J. Gonçalves)





Fotografia


(Jobim / Ray Gilbert)


Piano (F. Lockwood), Bass (C. Werneck), Batt (T. Caetano), Sax (C. De Queiroz), Perc. (L.C. De Paula)





Le Cinéma


(Michel Legrand / Claude Nougaro)


Piano (F. Lockwood), Bass (C. Werneck), Drums /Perc. (T. Caetano), Bugle (S.Belmondo)



Não tinha nada que
(dança do vento)


(Zé Moreira)




Guitare / Bass(N.Conceiçao), Perc.(R.Silva)








Tatau, beijos de luz
(Filó Machado / Manu Le Prince)
Guit (F.Machado), Clav.(M. Le Prince)





Nature Boy


(Eden Ahbez)




Bass & Guit.(C. Werneck) Accordéon (M.Berthoumieux) Perc. (L. C. De Paula)







Ginga das neves


(Robertinho Silva / Manu Le Prince)


Toutes percussions (R.Silva)


Winter song


(Francis Lockwood / Manu Le Prince)


Piano (F. Lockwood), Bass (C. Werneck) Drums (T. Caetano), Perc. (L.C. De Paula)





Me deixas louca


(Armando Manzanero / Paulo Coelho)




Piano(F. Lockwood), Bass(C. Werneck) Drums/Perc (T. Caetano)










Casa forte


(Edu Lobo)


Piano (F. Lockwood), Bass (C. Werneck), Drums (T. Caetano), Perc. (L.C. De Paula), Trombone (R. De Souza)

Coraçao


(Rosinha de Valença / Dario Segovia)


Piano (H.Pascoal)


E bom


(Francis Lockwood / Manu Le Prince)




Guitare (D. Le Prince), Clav. (F. Lockwood), Bass (C. Werneck), Drums (T. Caetano), flute (C.De Queiroz)